Hey everyone,

I am Carla, Marketing Coordinator for a new project called Love is the Cure (LITC).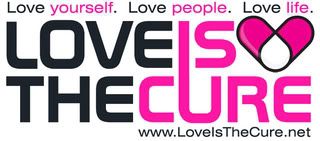 Created in April of 2009, LITC is a division of the NHBPDA. We are an authentic brand developed by borderlines for borderlines. Our mission is to help people with borderline personality disorder (BPD) help themselves by providing them with the support and resources they need to do so.

We are in the process of designing our official webpage: www.loveisthecure.net

There are some things you can do in the meantime to get connected with us:
Follow us on Twitter!
Become our fan on Facebook!
Become our friend on Myspace!

Also, FOR BORDERLINES ONLY please help us by completing a simple survey. This survey is completely anonymous. It will give us a better understanding of how we can better serve you with our new site.

Please click here to complete the survey!

Thank you so much!

<3 Yourself. <3 People. <3 Life.